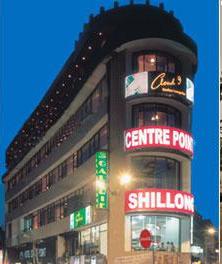 Adresse:

Police Bazaar,Shillong

Beschreibung:

If Shillong is the most sought after hill resort in India's north-east, Centre Point is clearly the best located luxury hotel in Shillong. Strategically situated in the heart of this bustling
and colourful capital city, the bus terminus, taxi stand, banks, travel agents, emporia and shopping centres are all within walking distance.

At Centre Point we offer you the best of both worlds - 4-star services and facilities as well as the traditional warmth and hospitality of the north-east. So whether you are in Shillong on business or just holidaying, make Centre Point your home because at Centre Point you are in the heart of Shillong.

Raum-Service:

Running hot and cold water, Cable TV.

Anderer Service:

Bar/Discotheque,Valet Parking

Lagevorteil:

35 kms from Umroi Airport

Access Airport:

125 kms from Borjhar Airport (Guwahati);

Access Rail:

103 kms from Guwahati Railway Station;
Anzahl der Zimmer:
10
Beschreibung:
standard rooms-Beautifully designed & appointed rooms with attached bathrooms ,Running hot & cold water,Cable TV ,Wall to wall carpeting Laundry service
Anzahl der Zimmer:
4
Beschreibung:
The rooms are elegantly furnished with European décor. Wall to wall carpeting, wooden furniture, color television, telephone services, attached baths with running hot and cold water are the specialties of the rooms.
Anzahl der Zimmer:
10
Beschreibung:
deluxe rooms-standard rooms-Beautifully designed & appointed rooms with attached bathrooms ,Running hot & cold water,Cable TV ,Wall to wall carpeting,Laundry service,